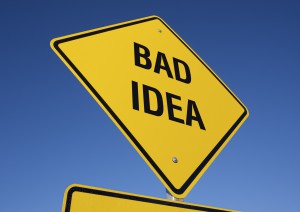 Thinking about starting a blog? Doing so is a great way to establish a strong presence on the web, generate a following, and even promote your products and/or services. However, you'll want to avoid making the following mistakes when blogging.
Wrong Content Management System
There are literally dozens of different content management systems (CMS) available, some of which include Drupal, Joomla, BigCommerce, Blogger, Business Catalyst, Tumblr and WordPress. With so many different choices, how do you know which one to choose? For the purposes of blogging, most experts will agree that WordPress is the best and most versatile choice.
Using a Free Template/Theme
The allure of using a free theme may sound enticing, but it's usually not worth it. Granted, you may save a couple bucks, but you have to remember that hundreds or even thousands of bloggers are probably using the same theme. Furthermore, free blogging templates/themes are often poorly coded, making them difficult to rank for your desired target keywords. This is why you invest in a premium theme for your blog.
Duplicate Content
While WordPress is arguably the best CMS for blogging, it has a couple drawbacks, one of which being the potential for duplicate content. Whenever you publish a new post, it will show up on the actual post URL, category page, author page, archive page and tag page — that's 5 different places! Google does a pretty good job at identifying and indexing the appropriate URL, but you should still use an SEO plugin to "noindex" these unnecessary URLs. The content will still be published on multiple URLs; however, Google won't send its army of robots to crawl and index it.
Disabling Comments
Allowing visitors to comment on your blog posts is somewhat of a double-edged sword. It will provide real value to your blog, but at the same time you'll have to spend time and energy moderating visitors' comments. Some bloggers assume it's simply not worth the effort, so they disable this feature. But comments are highly valuable to all blogs, as it encourages visitor engagement while generating fresh, new content. The bottom line is that you should keep this feature enabled on your blog. Granted, you'll have to weed out the spam comments, but that's a small price to pay for the benefits it offers.
What blogging mistakes are you guilty of making? Let us know in the comments section below!
Summary
Article Name
Mistakes To Avoid When Starting a Blog
Description
Blogs are a great way to engage your target audience and encourage a back and forth dialogue. However, you'll wan to avoid these mistakes when you're creating your blogs.
Author