You can always find ways to improve your blog — some are quick and simple, some take a bit more time. Here are some ideas!
Create an Email Newsletter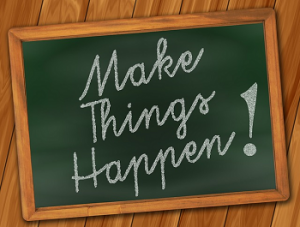 Why should you create an email newsletter for your blog? The real question to ask is why shouldn't you (hint: there is no reason not to). Launching an email newsletter will allow you to collect the email addresses of your blog's readers, which you can then use later for marketing and advertising purposes. Just place a newsletter signup widget in a highly visible location of your blog and ask visitors to enter their email address.
Respond to More Visitor Comments
To say blogging is a lot of work would be an understatement. From brainstorming new topics to writing, proofing, and performing regular software updates, it's easy to let the time slip by. As such, many bloggers overlook the importance of responding to visitor comments, resulting in lower levels of engagement. If you want to create a successful blog people actually enjoy reading and following, you'll need to engage in visitor discussions through comments.
Use Trending Topics
When creating content for your blog, look for trending topics that are relevant to your niche. If a particular topic is "trending," it is more likely to receive social shares, which of course is immensely beneficial in generating traffic (and backlinks for that matter). BuzzSumo is an excellent tool for this purpose, as well as good old fashioned Google News. You don't have to necessarily make every post a trending topic, but rather diversify your content with a combination of evergreen and trending topics. This is a great way to improve your blog with fresh, timely content.
Write Post Titles that Appeal to Your Target Audience
You can have a great blog post but if it has a ho-hum title, it's less likely to be read. You have to know your audience and what is likely to interest them. A blog post aimed at an audience interested in eating a Mediterranean diet is going to use different words and tone than an audience interested in managing their investment portfolio. However, regardless of the target audience, there are a few types of post titles that tend to do well.
Offering information your readers are likely to find beneficial is a sure-fire way to get more clicks. This can include "How to…" or "Improve Your…"
Titles that warn of something bad such as "X Mistakes New Investors Make" or "Is XYZ the Safest Solution for…" also tend to do well.
Quirky or controversial headlines gain a lot of attention too, but should be used with caution. You never want to lie or have a "red herring" title that promises something far more or unrelated to the actual post.
Post Consistently
I know this is easier said than done, but try to avoid an erratic blog publishing pattern. A good rule of thumb is to make between two and three new posts per week. This will keep your audience interested and engaged, at which point they will continue to follow your blog. If you begin to slack off and leave large gaps during which no new posts are made, some visitors may stop following your blog.
Tip: if you're unable to make new blog posts (e.g., you are taking a vacation or busy with other tasks), try scheduling your posts in advance. Nearly all of the leading blogging platforms have a built-in scheduling tool that allows bloggers to schedule their posts for future publish dates.
Have you tried any other tips to improve your blog? Let us know in the comments section below!
Summary
Article Name
5 Ways to Improve Your Blog Right Now
Description
Blogging can be tough, trying to find new topics and ways to improve your blog's readership. Here are a few simple ways you can improve your blog right away.
Author