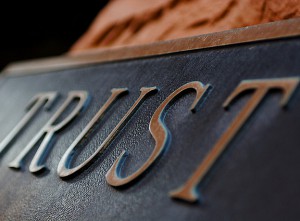 Lack of trust is a serious problem that can cost blogs and other websites tons of sales. If visitors view your blog as being untrustworthy, they won't feel comfortable making a purchase or taking any other direct action.
Trust Seals
What the heck is a trust seal? It's exactly what it sounds like: a seal (kind of like a logo) that's designed to instill trust in visitors. One of the most common and well-known trust seals is the Better Business Bureau (BBB) logo, which is found on numerous websites, big and small. Surprisingly, though, BBB isn't the most effective trust seal. A study conducted by Baymard Institute found Norton Antivirus to have the greatest influence on user trust, with McAfee coming in a close second, and TRUSTe tied with BBB at third.
User Reviews
Arguably, one of the most effective trust signals to include in a blog (or any website for that matter) is user reviews. A couple years back, the market analysis company Dimensional Research conducted a survey to determine the effects of online reviews. Researchers found that 90% of the respondents said positive online reviews influenced their decision to purchase a product or service, and 86% said they were influenced by negative reviews. This doesn't mean you should create fake reviews in an attempt to deceive visitors. Nine out of ten times, such tactics will backfire by generating distrust with your visitors. Internet users have become much more savvy about recognizing either fake reviews or reviews posted by people who received some sort of compensation or free product.
Social Signals
We can't talk about trust signals without mentioning social media. Whether it's Facebook likes, Google +1s, or Twitter Retweets, social signals go a long way in building greater trust. Just ask yourself which website you would trust more: one with 5,000+ Facebook likes, or another with ten Facebook likes? If you chose the former, you aren't alone. Most Internet users have greater trust for websites with strong social signals, simply because these social signals are from real users (most of the time, at least).
Keep in mind that social signals will only prove helpful if visitors can actually see them on your website. Therefore, you need to add the appropriate social widgets to your site. This is easily accomplished in WordPress, as it boasts a massive repository consisting of tens of thousands of plugins, some of which are designed for this very purpose. If you don't use WordPress, check into your site platform's widgets.
Address and Phone Number
Don't underestimate the importance of including your business's street address and phone number on your blog. Before making a purchase online, many consumers will check to see if the business's contact information is listed. If it's not, they may feel reluctant to purchase its products or services, fearing that they won't be able to reach a customer service agent in the event of a problem. You can lay these fears to rest, however, by making your business's contact information transparent on your blog.
These are just a few of the many different elements that can make your blog more trustworthy.
What trust signals does your blog feature? Let us know in the comments section below!
Image attributions: https://www.flickr.com/photos/powerbooktrance/
Summary
Article Name
5 Trust Signals to Make Your Blog More Trustworthy
Description
If you want your blog to help promote your brand / business, visitors need to feel it can be trusted. Here are some tips to instill reader trust.
Author