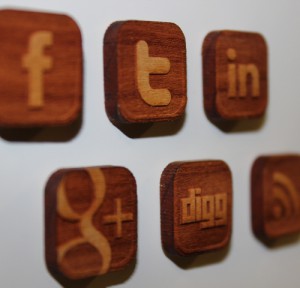 The number of shares your blog content receives on social media is a direct indication of its popularity and success.
If people are interested in your content, they'll naturally want to share it with their friends and family members. When done correctly, this creates a viral effect in which users begin to share content on social media, and then those users share it as well — the cycle repeats. The process sounds simple enough, but how do you encourage that first group of users to begin sharing your blog content?
Facebook Image Thumbnails
When you publish a link on Facebook, Google+, and several other social media networks, it will typically display a "snippet" of the URL's content along with a thumbnail image. Double-check the thumbnail image before publishing a link to ensure it's relevant and viewable. If the thumbnail image is broken, or if it's irrelevant, try clicking the < or > arrows to toggle through the different images. If that still doesn't work, you can run your URL through Facebook's debug tool to troubleshoot the problem.
Add a Social Share Button to Your Blog
Of course, another simple way to encourage more social shares is to add a "share this" button to your blog. Even if readers can share your content by logging into their social media accounts, placing a share button on your blog will make the process easier; thus, boosting the number of shares your content receives.  The GetSocial plugin is an excellent choice for WordPress blogs, as it supports all of the major social media networks while offering customizable button designs. In the event that your blog uses a different content management system (CMS), chances are there's still a social sharing plugin or add on available. Just search your respective CMS' marketplace for "social share buttons."
Use #Hashtags
If you aren't using hashtags in your social media posts, you are missing out on one of the easiest ways to encourage more social shares. A hashtag is essentially nothing more than a word, or words without spaces, prefixed with the # sign. They are used to help categorize social media content so it can be found more easily. Whenever you post a link to a blog post on social media, include at least one relevant hashtag to improve its visibility.
Here's a short list of the different social media networks that currently support #hashtags:
Twitter
Facebook
Instagram
Pinterest
Google+
YouTube
Tumblr
Orkut
Fluidinfo
Catch.com
FriendFeed
Content Matters
You can't expect social media users to share your content unless it's actually thoughtful and engaging. Think about to whom you are trying to reach with your content and focus on content that's interesting to the respective demographic. If you need a little help crafting sharable content for your blog, check out some of your competitors to see what they are doing. You obviously shouldn't copy their work, but there's nothing wrong with drawing inspiration from it.
Have any other blogging tips that you would like to share with our readers? Let us know in the comments section below!
Image attribution: https://www.flickr.com/photos/bookwormlaser/
Summary
Article Name
Tips on Blogging for Social Shares
Description
Social shares, meaning social media users on Facebook, Twitter, YouTube, Instagram and other social media sites sharing your content with others is a highly desirable thing! Read on to learn more about how to encourage sharing.
Author