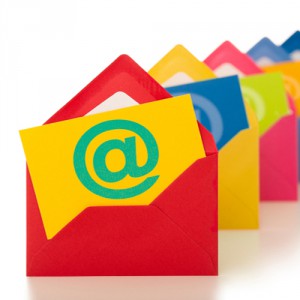 Are you collecting users' email addresses on your blog? If not, you should be. Email remains one of the most effective platforms for promoting a product or service. According to the credit bureau Experian, email marketing is 20 times more cost effective than traditional advertising, attesting to its benefits.
But how exactly do you capture email lists on a blog?
You have a couple of options, so we'll explain.
Create a Newsletter Signup Form
The easiest and most effective way to collect email addresses on a blog is to create a newsletter signup form. Users will enter their email address to sign up for your blog's newsletter. Sounds simple enough, huh? Unless you are familiar with HTML and CSS, you may have a difficult time creating your own custom newsletter signup form.
The good news, however, is that several websites have posted the template code for creating a newsletter signup form. You can check out the example at http://www.cssflow.com/snippets/newsletter-sign-up-form/demo/html, which offers a basic newsletter signup form. Just edit the code to your liking and paste it into your blog.
Use a Third-Party Plugin
Of course, you can also use a third-party plugin to collect users' email addresses, assuming your blog content management system (CMS) offers a plugin.
WordPress has several. Just head over to the plugin directory and search for "newsletter signup," at which point you should see dozens of prospective plugins with this function. One such plugin is the Easy Signup plugin, which lives up to its namesake by offering a simple, easy-to-use signup form that can be integrated into all types of WordPress blogs and websites. Regardless of which plugin you choose, however, it's important to keep it updated to the latest version. Outdated WordPress plugins are a serious security risk that could make your blog a prime target among hackers.
Tips on Collecting Email Addresses
You can't expect visitors to enter their email address unless they get something in return. I know this probably sounds like common sense to most seasoned bloggers and webmasters, but it's still worth mentioning that you need to provide your visitors with some type of incentive for entering their email address.
One idea is to offer them a free guide or report. Chances are you've come across a website using this tactic before. Many sites advertise "FREE REPORT" for entering your email address. After the visitor enters his or her email address, an autoresponder is set up to automatically send the report. This report or e-book may be something as simple as an article with relevant statistics and information, or it can simply be an expansion on a blog post topic.
Collecting email addresses is only half the battle. You must also work to keep those subscribers happy; otherwise, they may unsubscribe, meaning you won't be able to send them additional emails. Limit the number of promotional emails you send to your subscribers — provide mostly informational content recipients will find useful.
Have any other blogging tips that you would like to share with our readers? Let us know in the comments section below!
Summary
Article Name
How to Build an Email List While Blogging
Description
If you have a blog, you should be using it as a way to collect email addresses from visitors. Why? So you can remain engaged with them by sending them useful content.
Author