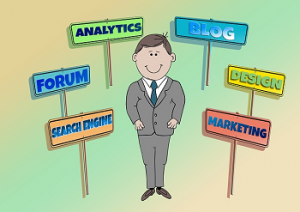 Who says that blogs are limited strictly for personal reasons? Businesses of all shapes and sizes can leverage the power of blogging to attract new customers and grow their brand identity. But there are some blogging guidelines you'll need to know when blogging as a business owner.
Don't Send Traffic to Your Competitors
Linking to relevant sources in your blog posts is a great way to enhance your own content while showing search engines that your blog isn't a one-way street way. But the golden rule of linking is to avoid linking to your competitors. If you add links pointing to your competitors' websites and/or blogs, you could be sending them free customers — and that's never a good idea.
Include Brand Elements in Design
One of the perks of blogging is that it requires little-to-no coding experience. Using a content management system (CMS) like WordPress or Joomla, you can set up a blog in just minutes using a pre-made theme or template. Unfortunately, that has led many business owners to believe that default blog designs are okay to use. You have to think of your blog as an extension of your brand, which means incorporating the appropriate brand elements into the design. Before making your blog go live, add your business's name, logo, tagline, color scheme and other brand elements to the theme or template.
Check for Typos and Grammar Mistakes
No matter how hard you try to prevent it, typos are bound to happen when blogging. Even major blogs like Huffington Post and Gizmodo make spelling and grammar errors from time to time. But if your blog posts are riddled with typos, it will leave a negative impression on your brand identify. So before publishing a new post, proofread it one last time to ensure that it's error-free. Most blogging platforms have a built-in spellcheck tool. If yours doesn't, you can run the text through an online tool like Spell Check Plus or copy and paste it into Word to check for spelling and grammar mistakes.
Moderate Comments
Allowing visitors to submit comments on blog posts will create additional, free content for your blog. Each new comment — whether it's a single sentence or full-blown essay — adds searchable content to your blog that Google (and other search engines) will crawl.
But if you're going to enable visitor comments, make sure they are set up to require approval before going live. If visitors are allowed to submit comments without any type of moderation, your blog may attract spam comments. The problem with spam comments is that they'll reflect poorly on your business and brand image, as visitors will associate your business with spam.
Respond to Negative Comments
Regardless of how well you run your business, occasionally a customer is going to feel like he or she had a bad experience. If a customer leaves a negative comment, don't ignore it! Respond to it, offering to remedy the problem the customer experienced if possible. This shows other readers you care about your customers and want to resolve their issues. Just don't get into an argument via comments!
Have any other blogging guidelines that you would like to share with our readers? Let us know in the comments section below!
Summary
Article Name
Blogging Guidelines for Business Owners
Description
Businesses can harness the power of blogging to engage with their customers, but there are a few blogging guidelines you'll want to follow.
Author