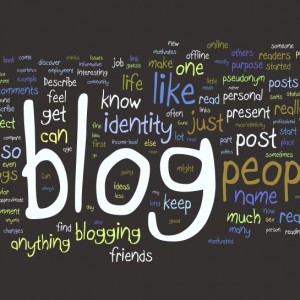 Thinking of starting your own blog? If so, you'll want to follow these seven unwritten rules. While there's no universal standard for maintaining a blog, these rules will boost your credibility while attracting new visitors in the process.
Blogging Rules:
Cite Sources
There's nothing wrong with including excerpts or quotes from other websites and sources on your blog. However, you should always link back to the original source. This is done as a courtesy of saying "thanks," but it also shows search engines that your blog isn't a one-way street.
Use a Custom Design
The great thing about blogging is that you don't need any web design or coding experience. Thanks to platforms like WordPress and Blogger, you can toss up a theme for your blog's design and call it a day. With that said, it's recommended that you use a custom theme — or at least modify an existing theme — so your blog stands out from the rest. If thousands of other blogs have the same theme as yours, it's not going to leave a positive impression on visitors.
Make a Persona
Blogs differ from standard websites in the sense that they focus on personal connections between the author and reader. In order to establish this connection, you need to create a persona. Some bloggers prefer to use their own name and persona, whereas others use pen names.
Longer Posts Aren't Necessarily Better
Contrary to what some bloggers may believe, excessive long, drawn-out posts aren't necessarily the best. Readers typically prefer short, easy-to-digest posts, so this is the format you should follow when creating your posts. Instead of writing a massive 2,000-word post that few (if any) people will read, condense the highlights of your  message into a 400-500 word post.
Plugins Are Your Friend(s)
Assuming you use WordPress for your blog (and you should!), it's recommended that you take advantage of the countless number of plugins that are available. There's literally a plugin for just about everything, from enabling browser caching to optimizing images and creating XML sitemap files. Granted, you can always hard code these features directly into your blog, but plugins are designed to save time and energy by seamlessly integrating features into your blog. They are often updated too, saving you the hassle of re-coding your site whenever changes are needed.
Respond to Visitor Comments
Whether it's a positive comment praising you on your recent post or a negative comment criticizing your work, you should respond to every visitor comment. Doing so shows readers that you are listening and interested in hearing what they have to say. Even if someone writes a somewhat negative comment, you can always just "thank you for your input." Of course, if it's truly vulgar or offensive to you or your other readers, you should remove it.
Don't Stop Posting!
One of the most common mistakes that new bloggers make is failing to publish new posts on a regular basis. Without new content, there's no reason for visitors to return to your blog, at which point they may seek information from another source, such as one of your competitors. To retain your followers, you should get into the habit of publishing at least one post per week, more if you have the time and resources.
Did we leave out any other blogging rules? Let us know in the comments section below!
Image attribution: https://www.flickr.com/photos/barnett/
Summary
Article Name
The 7 Unwritten Rules of Blogging
Description
Blogging is a flexible, effective way to connect with your audience, but for the best results, you should keep these suggestions in mind.
Author