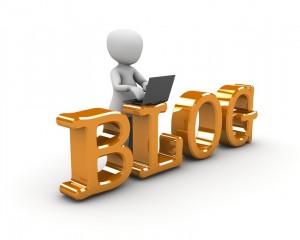 Ask any seasoned business owner and he or she will agree: a website is no longer a luxury for running a successful business; it's a requirement. Even if you don't use it to sell a product or service, having a website instills greater trust in your target audience while helping to establish greater brand recognition. But if you already have a website, you might be wondering whether or not you need a blog — a question that we're going to answer today.
Blog vs Website
Before we reveal whether or not you need a blog, let's first discuss the nuances between blogs and websites. While a blog is essentially a type of website, and websites can be blogs, the terms are somewhat interchangeable. However, there are a few distinguishing characteristics between the two that are worth noting.
A Blog
A blog is type of website in which content is created and arranged in the form of "posts." Blog content is updated regularly, usually by publishing a few posts per week. Blogs have a more conversational feel, as visitors are encouraged to participate in ongoing discussions with the author.
A Website
A website has more static content — think of it more as a storefront or platform to communicate your business' services or products. Website content tends to be more formal with little-to-no interaction.
YES, You Do Need a Blog…
Even if you have a website, it's still a good idea to create and manage a blog. Blogs are designed to emphasize the importance of content, making them incredibly SEO-friendly.
It's not uncommon for search engines to index new blog posts within hours of them being published, meaning you'll generate more traffic by having a blog in addition to your website. More traffic can turn into more visitors becoming customers and begin building loyalty.
A blog is also a useful tool for making announcements. Sure, you can publish these "announcements" in the form of an article on your website, but most people won't know you've added the announcement. Blogs, on the other hand, have a strong following, so when you publish a new post, people will immediately see it. This allows business owners and entrepreneurs to use blogs to make newsworthy announcements.
Isn't Blogging Difficult?
If you have a website, you should be able to get a blog up and running. In fact, it's arguably easier to set up a blog than it is to set up a website. There are more a dozen blogger-friendly content management systems (CMS) available, some of which include Blogger (owned by Google), WordPress, Tumblr, Joomla, and Drupal. Using these platforms, you can create fully functional blogs without having to invest significant time or money.
And best of all, they require minimal technical experience in regards to HTML and coding.
Have anything else that you would like to add? Let us know in the comments section below!
Summary
Article Name
Do I Need a Blog if I Already Have a Website?
Description
Business owners can generate more traffic to their websites by adding a blog, one of the reasons why you should have both.
Author