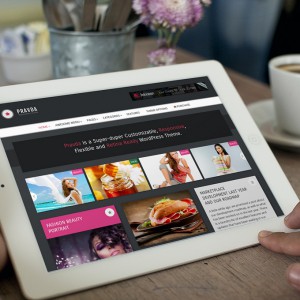 As more and more Internet users toss out their clunky desktops in favor of smaller and more convenient mobile devices, there's a greater emphasis placed on creating mobile-friendly websites. But just because your website looks fine on a smartphone or tablet doesn't necessarily mean that it's properly optimized for mobile compatibility.
Mobile devices often render pages more slowly than desktops, which may cause some users to click the back button in their browser before waiting for the site to load.
Accelerated Mobile Pages Project
This has prompted Google to launch its Accelerated Mobile Pages (AMP) project. As the name suggests, AMP is a web design/development architecture that places an emphasis on fast-loading mobile-friendly websites. It contains web development guidelines for providing users with a fully functional mobile website that loads in the blink of an eye.
WordPress AMP-Compatible Plugin
In an effort to further build on Google's AMP project, WordPress has announced plans to develop a new AMP-compatible plugin. So if you currently use the WordPress CMS platform, you may soon be able to install and activate a plugin that makes your site AMP-friendly. Assuming the plugin works as intended, it will significantly reduce load times for your site's mobile visitors, which in turn should yield more sales and conversions.
According to WordPress, nearly 1 in 4 websites run its CMS platform, which is far more than any other CMS. With this profound success, however, comes the need for optimization, such as the case involving mobile-friendly websites. The company says that its new AMP plugin will allow webmasters and bloggers alike to create AMP-formatted content without "lifting a finger," as the plugin handles all of the technical aspects.
The use of plugins in WordPress is one of the many reasons why so many people prefer it over other CMS platforms. Sure, you can manually create a custom AMP-formatted website from scratch, but doing so is tedious, time-consuming, and difficult. WordPress developers hope to make the process a little easier with the introduction of a new plugin. Just download and active the plugin and you are good to go!
"We believe that open source is one of the most powerful ideas of our generation. We strongly and actively support a free, open internet. We're very happy to support an open source initiative like AMP, which brings publishers and technology companies together to make a better mobile experience for everyone," wrote Paul Maiorana and Simon Dickson when announcing the project.
So, when can you expect to see the new AMP plugin available for download?
There's still no official word yet on a release date. However, WordPress developers have published a project for the new plugin on GitHub, asking the community for help in troubleshooting bugs and errors. The GitHib project page currently has more than 100 comments with half a dozen or so contributors.
Do you think this a smart move by WordPress? Let us know in the comments section below!
Image attribution: https://www.flickr.com/photos/zergev/
Summary
Article Name
WordPress to Develop Accelerated Mobile Pages Plugin
Description
With search engines and users putting a bigger emphasis on mobile-friendly websites, WordPress is releasing a plugin to make it easy for users to optimize their WordPress sites.
Author