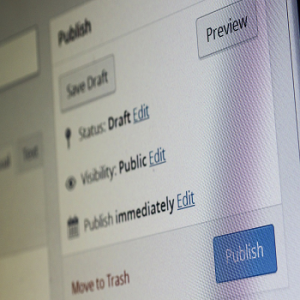 Do you use WordPress to blog? There's no denying the fact that WordPress is a powerful blogging platform. It features a massive directory of plugins and themes while preserving a clean and user-friendly interface.
Backup Your Files
Don't forget to backup your files. Many first-time WordPress users make the mistake of only downloading their core files via a File Transfer Protocol (FTP) program. But WordPress isn't static, and most of its data is stored in the form of a database. Therefore, you'll need to download both your core files, as well as the database associated with your site. If all of this sounds too technical, try using the BackUpWordPress plugin.
Keep it Updated
Outdated content management systems (CMS) are often a target of hackers, simply because they are easier to infiltrate. The good news is that WordPress is constantly being updated in an effort to fix security vulnerabilities. In order to keep your site protected, however, you must apply these updates in a timely manner. After logging into your site as the admin or a user with admin privileges, click Dashboard > Updates to check for new updates.
Schedule Your Posts
Blogs that are frequently updated with new content will reap the benefits of more traffic and higher search rankings. But what if you plan on taking a vacation or going away on a business trip? How can you publish new content? Thankfully, WordPress has a built-in feature that allows users to schedule posts and pages to be published at a later date. From within the post/page editor, you'll see an "Edit" link next to "Publish immediately" at the top right corner. Click this link and you can specify a custom publish date for the post or page.
Use Categories and Tags
Although you can create posts without assigning them to a category or giving them tags, doing so will almost certainly prove beneficial. How does this help? Well, placing your posts within a category creates deep-level links (e.g. yousite.com/category/post-name), which search engines LOVE. Tagging has a similar affect by creating deep-level links for pages. Just remember to use an SEO plugin to avoid duplicate content issues with your blog.
Install Plugins… But Not Too Many
If you aren't using plugins on your blog, you're missing out on one of the best features of WordPress. Whether you need to create a contact form, enable browser caching, set up an image gallery or perform any other function, chances are there's a plugin for it. You can implement these features manually by hard-coding them into your theme, but plugins offer an easier solution: you simply download the plugin, upload it to your site, and activate it. With that said, you should keep your plugins to a minimum, because using too many at once can negatively impact your blog's load times.
Have any other WordPress tips that you would like to share with our readers? Let us know in the comments section below!
Summary
Article Name
How to Use WordPress More Effectively
Description
WordPress is a popular blogging platform for good reason - it offers a plethora of features that make your blog better and safer. Read on for some tips.
Author