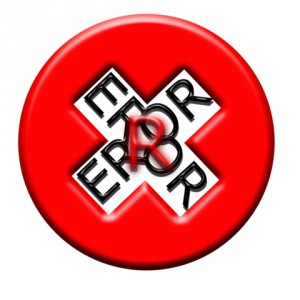 Can't seem to find your blog listed in Google's search results? While Yahoo and Bing may provide some traffic, it fails in comparison to the Big G. So when a blog fails to rank in Google, it can be troubling for the owner. The good news is that you can often fix this issue, first by identifying why Google hasn't indexed your blog.
Copyright
If your blog has been reported for copyright violations, Google may deindex it. The person or organization reporting the violation, however, must provide ample proof; otherwise, Google will let it be. To check and see if your blog has been reported, visit http://www.google.com/transparencyreport/removals/copyright/search/ and type your blog's URL into the search box at the top of the page.
Search Engine Visibility Settings
If your blog was built using the WordPress content management system (CMS), check to make sure you didn't accidentally turn off search engine visibility. While logged into your blog's dashboard, access Settings > Reading > and un-tick the box labeled "Discourage search engines from indexing this site." It's not uncommon for first-time bloggers to accidentally tick this box, not knowing it's true effects. When this feature is enabled, however, search engines won't — or shouldn't — crawl/index your blog.
Check Robots.txt
Have you checked your blog's robots.txt file to see if Googlebot is blocked? Log into your blog's web server via an FTP program and open the robots.txt file. Delete any instances of disallow Googlebot to ensure the Big G can properly crawl and index your blog. Unless you're familiar with the robots.txt file, there's really no point in using it anyway. So if you want, feel free to delete it.
Banned For Spamming
Whether you are the guilty party, or if someone who owned the domain previously did it, Google will often ban domain names from its index when it believes they have violated its Webmaster Guidelines. These violations must be severe, however, and usually involve excessive spamming, cloaking or other manipulative practices. Contrary to what some people may tell you, there's really no definitive way to determine if your blog has been banned by Google for spamming. You can do a simple search for your "yoursite.com" to see if comes up, and if doesn't there's a chance it's banned. The good news is that you can often recover your lost rankings by submitting a reconsideration request to Google.
Have you experienced this problem before? We'd love to hear your thoughts and opinions!
Summary
Article Name
Why Won't Google Index My Blog?
Description
If you search for your blog site on Google and it doesn't come up at all, Google may not be indexing (finding and categorizing so it will show up in search results) your site. If Google can't or won't index your site, you're going to see little traffic. There are some settings and things you check to see if these are preventing Google from indexing your site
Author