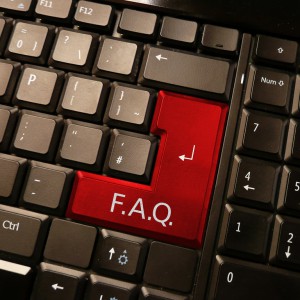 Does your blog have a page dedicated strictly to questions asked by your target audience? Creating a frequently asked questions (FAQ) page is a great way to add value to your blog while helping visitors in the process.
If a visitor has a question about your blog, business, or a product that you offer, he or she may look at the FAQ page for an answer. Search engines will also index this page, ranking it for questions contained within the page.
Look for Real Questions Asked by Users
How many times have you gone to a business's FAQ page, only to be disappointed that the questions and answers aren't particularly helpful? Frustrating, right?
When creating an FAQ page for your blog, begin by searching for real questions asked by real users. Some bloggers simply make up their own questions, believing they are relevant to users. You may be able to guess some relevant questions, but a better approach is to include questions that have already been asked by users.
Check your email, social media accounts, and visitor comments to see what questions users have asked. Turn these questions into a list for use on your FAQ page.
Short, Concise Answers
Rather than giving long, drawn-out answers, make them short and concise. You have to remember that visitors normally access FAQ pages to learn the answer to a single question. This means they don't want to spend long hours reading some essay-style article. A good rule of thumb is to include no more than a couple of sentences at max when answering questions on the FAQ page. If you want to elaborate on a particular question, create a separate blog post or page for it. You can even link to the post/page within the FAQ section, letting visitors know where they can learn more about the subject.
FAQ Page Optimization
There's very minimal work involved in optimizing an FAQ page, but you'll still need to perform a few simple operations. For starters, make sure the title tag reveals what the page is about. This may be something along the lines of "Frequently Asked Questions About [insert your niche]." You should also include a meta description so search engines can create a meaningful listing for it.
Update With New Questions and Answers
An FAQ page is unique in the sense that it is an ongoing project. Once the page is live on your blog, you should get into the habit of updating it with new questions and answers on a regular basis. If a visitor emails you a question, go ahead and respond to him or her with an answer but also include the Q&A on the FAQ page. Chances are, other visitors will have the same question. Updating your blog's FAQ page regularly will ensure it's relevant and beneficial for visitors.
Organize Questions
If possible, try to create some type or organization when creating your FAQ page. Perhaps you can include questions and answers about your business at the top, Q&As about products in the middle, and Q&As about your niche at the bottom. The purpose of this is to help visitors quickly find answers.
Have any other tips for creating an FAQ page that you would like to share with our readers? Let us know in the comment section below!
Image attribution: https://www.flickr.com/photos/42931449@N07/
Summary
Article Name
Tips for Creating an Effective FAQ Page
Description
Having a relevant, helpful, well-organized FAQ page on your website will improve your image in readers' minds. Follow these tips!
Author