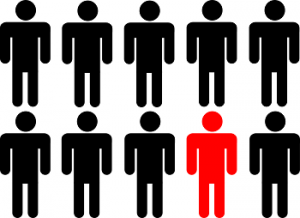 While the exact number remains unknown, some sources have estimated there to be roughly 152 million blogs on the Internet. Whether it's in the automotive niche, healthcare, e-commerce, fitness, fashion, etc., you can find a blog covering just about every topic under the sun.
Unfortunately, the massive amount of competition makes it difficult for newcomers to make a name for themselves, which is why it's important to distinguish your blog from the rest.
So, what can you do to make your blog stand out?
Be Personal
The term "blog" was initially used to describe a person's online journal. While blogs have grown and evolved over the years, they still place an emphasis on personal connections, and as such, your blog should have a personal touch. Don't be afraid to write in first-person perspective, talking directly to your readers instead of using displaying generic content. Keeping your blog personal will encourage greater visitor engagement while making your blog stand out in the process.
Avoid Generic Templates and Themes
When choosing a template or theme for your blog, invest in a custom design. Sure, the allure of using a "free" WordPress theme may sound enticing. After all, who wants to spend their hard-earned money on a custom design? But you have to remember that hundreds, possibly thousands, of other bloggers are also using it. If you want your blog to stand out — which I'm assuming you do — you should invest the money into purchasing a custom template, or having a free template heavily modified so it no longer resembles the original design. A custom design will go a long ways in differentiating your blog from the rest.
Diversify Your Content
One of the biggest mistakes bloggers make is focusing on a single type of content, such as standard text-based posts for instance. While there's nothing wrong with text-based posts, you should mix in other types of content as well. Some ideas include embedded YouTube videos, frequently asked questions page, infographics, PDF files, and photo gallery. Think outside the box when creating content for your blog and don't focus your efforts solely on text. Both human visitors and search engines will view your blog in a higher light by doing so.
Publish Unique Content
You can't expect your blog to stand out from the rest unless you provide visitors with unique, relevant content. According to Matt Cutts, approximately 25-30% of the entire Internet consists of duplicate content. While Google has said that it doesn't penalize for duplicate content, it may still have a negative impact on visitor engagement. The bulk of your blog's content should be unique and focused around a central theme or idea.
Click to learn more about creating great content.

Have any other blogging tips that you would like to share with our readers? Let us know in the comments section below!
Summary
Article Name
How to Make Your Blog Stand Out
Description
As a blogger, one of the biggest challenges you'll face is differentiating your blog from the MILLIONS of other blogs out there. Follow these simple tips to make your blog get noticed!
Author