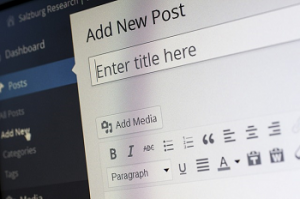 What's the first thing a visitor sees upon accessing one of your blog posts? Yep, it's the title. Blog titles set the tone for your blog posts, influencing visitors' decision on whether or not they will read them. But how exactly do you craft killer blog titles?
Create a More Focused Title
The first step is to create a focused title for your blog. In other words, you want to hammer down the title to something specific with a targeted focus.
Instead of a generic title like "Exercise Tips for Men" for instance, you can start with a title like "Top 5 Exercise Tips for Older Men." From there, you can play around with adding some more interesting words or phrases such as "Don't Fear the Years: Exercise Tips for Older Men."
You'll have an easier time connecting with your target audience while also encouraging higher search rankings if you create specific, yet catchy titles. It's a win-win in both of these departments.
Relevancy
You'll want to consider the relevancy of your post title as it relates to the content itself. If your title is "Investment Tips for Retirees," but the actual content provides several investment tips for working professionals who are still earning a paycheck, it's not going to work. Readers will feel disappointed or even annoyed since the content doesn't relate to the post title.
The bottom line is that your post title needs to closely reflect the content within the post; otherwise, the lack of relevancy will send visitors heading in the opposite direction.
Include Power Words
There are certain words that trigger a strong, visceral reaction in readers. Known as "power words," including them in your post titles can prove helpful in getting readers interested and engaged. Some of the different power words include:
Top
Pitfall
Clever
Special
Report
Boost
Energize
Bright
Now
New
Facts
Exclusive
Breakthrough
Amazing
Of course, you don't have to use power words in all of your post titles, rather sprinkle them in when it's relevant and helpful for conveying the actual content of the post.
Watch the Character Count
When creating a title for your blog post, pay attention to how many characters it contains. According to the SEO experts at Moz, Google displays the first 50-60 characters (including spaces) of a page's title tag, at which point the rest will be truncated. So readers can see your blog titles on a search results page, keep them under 55 characters, or at the very least, make sure a key phrase is at the beginning.
Social Searching
It's not just Google that you have to think about when creating your post titles, but also the social media networks. If your post titles are too long, the social media networks may not display all of it. The ideal length for Twitter, for instance, is 120-130 characters. A study of 200,000 tweets with links found this to yield the highest level of engagement.
Have any other tips for creating great blog titles? Let us know in the comments section below!
Summary
Article Name
How to Craft Killer Blog Titles
Description
Have you fallen into a rut and are creating boring titles for your blogs? If so, read on for some tips on creating better blog titles.
Author