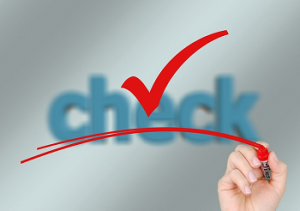 Running a successful, popular blog isn't an easy task. You must identify an untapped niche, create a solid brand presence, and publish high-quality content that's relevant to your target demographic. But before you click the "publish" button in your blog's platform to publish that  next blog post, you should first check the following to ensure it's ready for your audience.
Title Length
How long is the title of the post? According to the search marketing experts at Moz, page titles should be kept under 55 characters to maintain a high level of visibility in the search results. If your post titles exceed 55 characters, there's a good chance they will be cut off. Granted, this shouldn't impact the quality of your posts, but you can expect fewer users to click on your listing if the title is truncated.
Images
Does your blog post contain images? If not, you should add at least one before publishing. Not surprisingly, studies have shown that blog posts and articles with images receive more Facebook likes, comments and other signs of engagement than posts/articles without images. It only takes a couple of minutes to grab a relevant image from Flickr Creative Commons, but doing so can make your posts more interesting and engaging.
Links
Assuming your blog post contains links — internal or external — you should check them to make sure they are functioning before publishing the post. Omitting just a single character from a URL will send visitors to a 404 error page instead of the intended destination. This not only has a bad impact on visitor satisfaction, but it may also harm your search engine optimization (SEO) efforts. The bottom line is that you should check your posts' links before publishing to ensure they are working.
Grammar and Spelling
Of course, you should also check your blog post for grammar and spelling mistakes before clicking the publish button. Most blogging platforms have a built-in spell/grammar checker for this very purpose, although you can also use an external tool like Spell Check Plus.
Mobile-Friendliness
You should also check your post for mobile-friendliness (or lack thereof). If your blog post fails to load and function properly on smartphones and other mobile devices, you could be losing a significant portion of your traffic.
One way to check your post for mobile compatibility is to view it on a smartphone or tablet. However, an easier and more effective solution is to run your post through a mobile-friendly testing tool like Google's at https://www.google.com/webmasters/tools/mobile-friendly/. It will reveal whether or not your post is compatible on mobile devices, and if it isn't, the tool will offer suggestions on how to fix it.
Have any other blogging tips that you would like to share with our readers? Let us know in the comments section below!
Summary
Article Name
5 Things to Check Before Publishing a New Blog Post
Description
Your readers will have a better experience and your site will be better optimized for search engines if you check these 5 things before publishing your blog posts.
Author