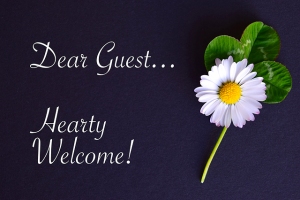 All bloggers hit this wall at some point — staring at our screen and wondering what to blog about. Sometimes the muse just isn't there and we run out of creative ideas. This is just one reason to consider inviting guest bloggers to submit content to your blog on occasion.
Inviting guest bloggers to submit content is also an excellent way to enhance your blog with commentary from a different perspective. Before you race out and start inviting guest bloggers, here are a few things to consider first.
Competitor or Parallel to Your Blog Niche?
It's a bad idea to recruit guest bloggers who are direct competitors, simply because they may capture some of your sales. If a visitor lands on your blog and likes the guest post, for instance, they may leave your blog to visit the competitor's blog. If the visitor starts following the guest blogger instead, or purchases a product or service, you may have trouble getting that visitor back in your camp.
Do a little research — it's a great idea to invite guest bloggers who blog about topics related to your blog's niche. For example, if you blog about growing vegetables in home gardens, invite a guest blogger who blogs about cooking with fresh produce or growing a community vegetable garden.
Is the Guest Blogger Experienced and Knowledgeable?
Of course, you'll also want to make sure the guest blogger is experienced and knowledgeable in the niche they are writing about. Recruiting a guest blogger with minimal experience in the medical field to write about Health Insurance Portability and Accountability Act (HIPPAA) laws isn't a good idea. Instead, you should choose a guest blogger who's familiar with the nuances of your respective niche to ensure high-quality content.
The best bet is to invite someone who is a respected SME (subject matter expert) because their posts will likely provide content your readers will find interesting and valuable.
How Is the Guest Blogger's Website?
Being that most guest bloggers place a link to their own website somewhere within the guest post, you should check their website to see what it contains. If the guest blogger's website is filled with spam and/or other "questionable" material, it's best to avoid recruiting them. Having your website associated with low-quality websites that violate Google's Webmaster Guidelines is a sure-fire recipe for failure.
If their site is full of typos and other errors, this should throw up a red flag — if the blogger can't take the time or have the knowledge to fix the majority of errors before hitting "publish," they're not likely to put much effort into your blog posts either.
Does the Guest Blogger Include Images, Links and Other Non-Text Content?
Blog posts aren't restricted solely to text. They should also contain images, links, videos and other forms of content. Check with prospective guest bloggers to see if they go beyond pure-text posts.
What Are Some Examples of the Guest Blogger's Past Work?
There's no better way to determine whether or not a prospective guest blogger is right for your blog than by checking their past work. Every good blogger has a portfolio of work, featuring previous blog posts they've written for other blogs and clients. Review their previous work and then determine if their knowledge and style is right for your blog.
Have you submitted guests posts or invited guest bloggers to submit posts? Let us know in the comments section below!
Summary
Article Name
5 Things to Consider When Choosing Guest Bloggers
Description
Guest bloggers can add fresh content and bring new readers to your blog. Here are a few things to consider when choosing guest bloggers.
Author