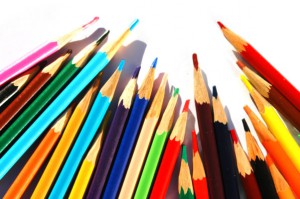 A visually appealing design can make a world of difference in a blog's popularity. The human brain is hard-wired to respond to attractive designs with a higher level of engagement. So even if your blog contains exceptional, well-written content, it may ultimately fail unless it features an attractive layout.
Here's the problem, though: many bloggers have little-to-no experience in graphic design. They may understand the basic concept of pixel dimensions and file types (e.g. GIF, JPEG, PNG, etc.), but they lack the skills necessary to create a custom header or theme/template design. If this sounds like a familiar scenario, you should consider hiring a professional graphic design artist instead of attempting the project yourself.
Identify Your Goals
Before you contact a graphic designer, you should first identify your goals. Ask yourself, what type of design am I looking for and what should it include? Maybe you want a new header that flows cohesively with your blog's theme, or maybe you want a completely new theme designed from scratch. The more information you can provide, the better. Of course, if you're unsure of where to begin, a good designer can help you get started.
Check The Graphic Designer's Portfolio
There's no better way to size up a graphic designer than by looking at his or her portfolio. Assuming the designer has a website — which they should — they should also have a portfolio of their work. Take a few minutes to browse through past examples of his or her work, taking note of the style, quality and characteristics. Is this the type of design work that you would like to see on your blog? If it's not, move on to the next graphic designer.
Skills and Experience
It may pale in comparison to a portfolio, but checking a graphic designer's skills and experience will also prove useful in determining whether or not they are a suitable candidate for your blog. A graphic designer who's been working in the field for ten years will likely produce better work than someone who just came out of college. With that said, there are still plenty of skilled graphic designers with little-to-no experience, so don't base your decision solely on this criteria.
About Us Page
If you haven't done so already, check out the graphic designer's About Us page. Here, you'll find information about the graphic designer, such as their education, experience, social media profiles, and other things that can be used to help make your decision.
How do you choose a graphic designer? Let us know in the comments section below!
Summary
Article Name
Choosing a Graphic Designer For Your Blog
Description
Unless you or someone you know well has great graphic design skills, you may want to consider hiring a graphic designer to create the artwork and other visual content for your blog site.
Author