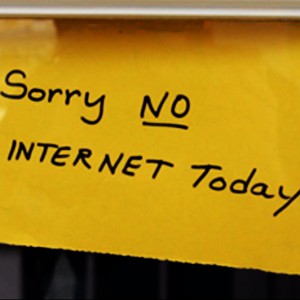 The secret to running a successful blog is to publish fresh, high-quality content on a regular basis. Content is the heart and soul behind every successful blog, as it gives both humans and search engines a reason to visit the blog. But what if you don't have access to the Internet? Can you still blog?
Yes, You Can Still Blog
The good news is that you can still blog without an active Internet connection, although there are some caveats that you need to be aware of. For starters, you won't be able to publish new posts "live," until you connect to the Internet. Instead, you must create and prepare new posts for publishing at a later date.
Microsoft Word
While there are over a dozen different apps and programs that can be used to write new posts while offline, one of the most versatile is Microsoft Word. Using Microsoft's signature word processor, you can go ahead and write out all of your posts in advance, waiting to publish them for when you have access to the Internet. Microsoft Word is easy to use, versatile, and works great for offline blogging. When you go to open a new document, Word gives you the option to open a new blog post document, making it even simpler. If you aren't willing to spend the money on it, you can always choose a free alternative like OpenOffice Writer, which has many of the same features as its paid counterpart.
Offline Blogging Apps for WordPress.com Blogs
Assuming your blog was created on the hosted version of WordPress (found at WordPress.com), you can use a desktop application to write new blog posts. Of course, you won't be able to publish the post directly to your blog, but rather you can create the post in an editor, saving it for when you do have access to the Internet. Some of the different blogging apps that are compatible with WordPress.com blogs include Windows Live Writer, Blogjet, and Raven.
For a complete list of desktop applications that are supported by WordPress.com, visit https://en.support.wordpress.com/xml-rpc/.
Tether Your Smartphone for Instant Internet Access
Even if you don't have access to WiFi, you may still be able to get online by tethering your smartphone. As long as your smartphone has an active data plan, and your cell carrier allows tethering, you can create a mobile hotspot; thus, allowing you to connect computers or other devices to the Internet. The devices will connect to your smartphone, at which point your smartphone relays them to the Internet.
As a result, you may then publish your saved blog posts to the Internet. It's important to note, however, that data speeds are limited when tethering, and there's often a cap on the total amount of data you can send and receive. Check with your cell carrier for more information on tethering.
Have any other offline blogging tips that you would like to share with our readers? Let us know in the comments section below!
Image attribution: https://www.flickr.com/photos/marcelograciolli/
Summary
Article Name
Blogging Without an Active Internet Connection
Description
You can still create blog posts even if you don't have an Internet connection, and the publish them when you do - or use your smartphone as a way to connect to the Internet and publish posts.
Author