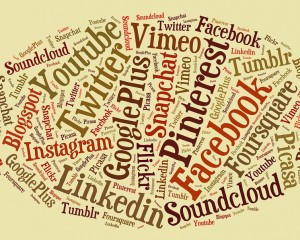 Can't seem to gain any traction with your blog no matter how many posts you publish? In most cases, you'll need to invest some of your time and resources into promoting your blog. By spreading the word, other users will see your blog and share it with their network. Today we're going to reveal how social media networking sites can be used to promote blogs.
Encourage Users to Share
If you look at some of the most popular blogs like Huffington Post and , you'll notice they all have one thing in common: they feature a variety of social "sharing" buttons. These buttons allow users to share the blog's content on their social media profiles, driving additional traffic and exposure to the blog. Implementing similar social sharing buttons into your blog makes it much easier for readers to share it since it eliminates the need to log into their social media accounts first.
Create a Facebook Page for Your Blog
While it may seem harmless enough, you should avoid posting promotional messages about your blog on your personal Facebook profile. Instead, create a Facebook page to use for this purpose. Facebook profiles are intended for personal use, whereas pages are intended for commercial use. Using a Facebook profile to promote your blog could result in your profile being terminated without notice, which is something no one wants to see happen. The bottom line is that you should only use a Facebook page when promoting your blog, not a profile.
Post Links to Blog Posts
Once you've published a new post on your blog, head over to your Facebook page to notify your followers. Rather than copying and pasting the entire post on your page, you should add a link to the new post's URL. Adding the link to your status box should automatically pull an excerpt and image from the respective URL, giving your followers a sneak peak at what to expect.
Many blogging platforms have tools and plugins that allow you to automate this process so you don't have to remember to manually do it — each time you publish a post, it's distributed across Facebook, Twitter, LinkedIn, Pinterest, etc.
What About Other Networks?
Of course, there are plenty of other social media networks that can be used to promote blogs, as well. Google+, Twitter, and Pinterest are all excellent platforms. They may lack the traffic of Facebook, but they are still effective platforms on which to promote a blog. For example, if your blog topic relies heavily on compelling images, you should be using Pinterest.
Consider Paid Social Advertising
If you really want to increase your blog's exposure, you should consider using paid social media advertising, such as Facebook Ads. Using Facebook Ads, you can drive a near-limitless number of visitors to your blog for as little as a few cents per click. It's a highly effective, cost-efficient way to promote a blog or website. And if you are worried about spending too much, you can always set a daily budget.
What are your thoughts on using social media for blog promotion? Let us know in the comments section below!
Summary
Article Name
Using Social Media to Promote Your Blog
Description
If you're not promoting your blog on social media, you're missing out on the opportunity to connect with a much larger audience. Here are some tips.