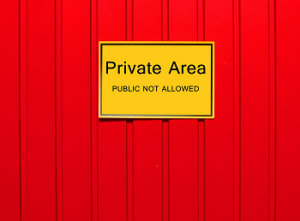 There are certain cases in which a blogger may wish to make his or her blog private. If you are a new parent, for instance, you may wish to post photos of your newborn on your blog for friends and family members to see, but not the general public. Private blogs are also used for collaboration projects in which two or more people work on a single project together. Of course, there are just a few of the many reasons why bloggers prefer to maintain private blogs instead of open/public blogs.
Search Rankings and Privacy
It should go without saying that you won't be able to effectively rank a private blog in the search engines. This shouldn't be an issue unless your goal is to achieve a top search ranking, in which case you'll need to make your blog public anyway.
WordPress Privacy Settings
Once you've made the decision to create a private blog, you'll need to adjust the settings accordingly. Ideally, you should set a blog to private the moment it is first launched; otherwise, you run the risk of search engines indexing it. WordPress has an option that allows bloggers to discourage search engines from indexing their blogs.
To enable this feature, log into your blog as the administrator or a user with admin privileges and choose Settings > Reading > and tick the box labeled "Discourage search engines from indexing this site" next to "Search Engine Visibility." As the name suggests, this option will discourage — but not fully prevent — search engines from indexing your blog in the search results. Once this option is enabled, your site's robots.txt file will be updated to block search engines.
Is This Enough?
The short answer is no, discouraging search engines from indexing your blog is not enough to keep it private. As previously stated, there's no guarantee that search engines will follow this guideline. Some of them may continue to index and rank your blog, regardless of whether or not this feature is enabled. Furthermore, even if the search engines do not index your blog, people can still access it via direct type-in traffic and links. So, how do you make your blog private so only authorized individuals can access it?
When you are creating a new post in WordPress, look to the right-hand side and you'll see an option to password protect it (under Visibility: public). Go ahead and tick the box next to "Password protected" and enter a password. Anytime someone attempts to access the post, they'll be asked to enter the password. If they do not know the password, they won't be able to access it. Combined with the discourage search indexing setting, this is a simple and highly effective way to make your blog private.
What are your thoughts on private blogs? Let us know in the comments section below!
Summary
Article Name
Should I Make My Blog Private?
Description
While most of the time we want our blogs public so they can be read by anyone and achieve high search engine rankings, there are times we may want to restrict it to a handful of viewers - here's how to make your blog private.
Author