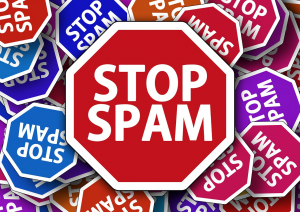 Allowing visitors to comment on your blog's posts and articles is a great way to promote engagement while creating free, unique content in the process. Each time a visitor leaves a comment, it creates additional content for your blog — content that search engines love.
However, the downside to enabling visitor commenting is the potential for spam. Spammers will exploit this feature to promote their products, services and websites, all while watering down the quality of your blog. So, how do you identify and stop comment spam?
Why Comment Spam is Bad
Let's first go over the reasons why comment spam is bad, because some webmasters turn a blind eye to it, assuming it poses no harm to their website. Spam is bad for a number of reasons, one of which is the simple fact that it associates your website with a website that is engaging in manipulative SEO practices. Google has said time and time again that the use of automated programs to create backlinks (e.g. comment spam) is against its terms of service; therefore, websites found in violation of this rule may be penalized with lower search rankings.
Tell-Tale Signs of Comment Spam:
Keyword-based name instead of an actual person's name.
Comment body contains one or more links.
The comment has nothing to do with the actual post or article.
Comments coming from the same Internet Protocol (IP) address.
Comments posted on old articles that are no longer relevant.
How to Stop Comment Spam
Thankfully, there are several different steps bloggers and webmasters can take to stop comment spam. For starters, you should adjust your blog's settings so that all comments must be moderated before going live.
If you are using the WordPress content manage system (CMS), log into your dashboard as the administrator and choose Settings > Discussion > and select "Comment must be manually approved." Once checked, this will place all new comments in a moderation queue, at which point they won't be seen until you approve them.
You can also combat spam by closing comments on old articles. Spammers often target old posts and articles for one of two different reasons: because they aren't as heavily moderated as new posts, or they contain keywords for which the spammer is trying to rank. While logged into WordPress, access Settings > Discussion > and check "Automatically close comments on articles older than [insert days here] days."
Of course, there are also dozens of WordPress plugins designed specifically for stopping comment spam. The default WordPress files even come with one such plugin known as Akismet. While Akismet is highly effective at preventing comment spam, it's only free for personal websites and blogs. If your blog generates revenue and is used for commercial purposes, you'll have to pay for the premium version of Akismet or use a different anti-spam plugin. Try searching the WordPress plugin directory for "comment spam" and you'll find several alternatives from which to choose.
Have any other spam-fighting tips that you would like to share? We'd love to hear them in the comments section below!
Summary
Article Name
How to Identify (and Stop) Comment Spam
Description
Comment spam is BAD for your blog, so you want to do everything you can to prevent it. Fortunately, there are some tools that make it easier, so read on to learn more about preventing comment spam.
Author