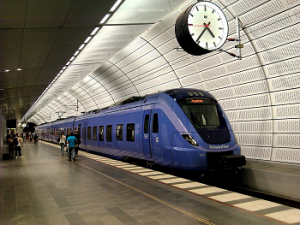 One of the perks of blogging is the simple fact that it can be done anytime, anywhere. As long as you have a laptop and Internet connection, you can blog. This has allowed many road-bound travelers to enter the realm of blogger. However, there are a few things you should know if you plan on blogging from the road.
Beware of Public WiFi
When blogging on the road, you'll have to rely largely on public WiFi for Internet access. In doing so, however, you place yourself at risk for hacking and cyber attacks. Hackers may intercept outgoing traffic on unencrypted wireless networks, viewing users' passwords and other personal data.
Furthermore, a hacker may create a phony WiFi, mimicking the WiFi of a real public establishment. So when users connect to the network, they assume they are connecting to the establishment's legitimate network, only to have malicious software installed on their computer without their knowledge. Double check the WiFi to make sure it's both encrypted and legitimate.
One option is to purchase a portable mobile wireless router such as a MiFi, which can connect to cell phone networks, meaning you can use it anywhere you would have cell coverage. You can also use your smartphone as a WiFi hotspot. Both options allow you to access the Internet with much tighter security than a public WiFi.
Back Up Your Data
Hopefully it will never happen to you, but if your laptop is ever lost or stolen — which is relatively common when traveling — you need some type of secondary backup system. Granted, most bloggers immediately publish new content to their blog, meaning it's not stored on their computer. However, you will probably store at least some data locally on your computer, such as research notes, account information, contacts, etc. Try to get into the habit of backing up this data to a secondary device like an external hard drive, USB flash drive, or even the cloud.
Capture the Moment in Photos
Take advantage of unique sights that you encounter during your travels by uploading photos of them to your blog. Numerous studies have shown that blog posts with images receive more traffic, more social shares, and ultimately more conversions than blog posts without images. While you can always find free-to-use images on Flickr Creative Commons, taking your own photos allows for greater flexibility since you don't have to worry about permissible use rights. If you encounter a scene that you believe is relevant to your blog's niche, take a photo of it and upload it to your blog.
Tell a Story
As a traveler, you probably have plenty of stories, so why not use your blog to share them with your readers? Blogs are perfect for telling stories. Stories are personal, engaging, and speak directly to the reader. Try to think of things you've experienced during your travels that relate to your blog's niche and blog about them. Hopefully, you took a photo or two, which can be used to further enhance the story.
These are just a few things to keep in mind when blogging from the road. Above all else, though, have fun and don't be afraid to try new things.
Have any other blogging tips for travelers that you would like to share? Let us know in the comments section below!
Summary
Article Name
Blogging Tips for Travelers
Description
One of the nice things about blogging is you can do it from anywhere, even when you're traveling. Blogging while you're traveling can even give you new content such as stories and photos for your blog. Here are some tips!
Author