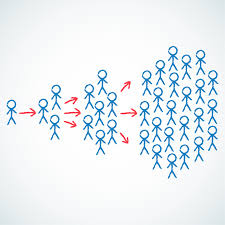 Anyone who publishes content on the Internet wants their work to go viral. Going viral means that the content spoke to so many people that they shared it with friends, liked it, commented on it and blogged about it on their own spaces. It's the holy grail for any blogger or content creator. It can be quite difficult to go viral, but there are ways to increase the likelihood that people will like and share your content.
Hosting Your Content vs social media outlets
First, you should start a blog with your favorite hosting company. While you can post to social media outlets, you want a main hub for users to find you. The benefit of a viral post will be lost if you don't have anywhere to direct that traffic.
Blog Post Ideas
1. People Love Lists
Whether it's the top 10 microwave ovens for making pizza, or the top 5 reasons why running is better in a group, the lists should appeal to your niche. It should be entertaining or informative too. Anyone can create a list, but there must be something compelling about the list you share with readers.
2. Inspiration and Motivation
Motivational blog posts will inspire your readers to make changes or inspire them to continue along their path. The Internet loves to share inspiring quotes too. If you share your post with inspirational quotes, you're more likely to get shares and comments as others want to show family, friends and co-workers.
3. Interview Someone Famous
That person can be famous in your niche like a local businessman who achieved something amazing, or it can be famous person everyone knows. Most people don't know any celebrities, so interviewing people with interesting stories is the best way to conduct an interview. Their name or their story can generate the buzz you need to make the post go viral.
4. Recent News
You don't have to reinvent the wheel to create a post that will go viral. Often, you can easily tap into the latest news to find topics that people want to share. This is especially true if you can give the content a unique spin or conflicting viewpoint. Try to keep it related to your niche or industry too.
5. Opinion Post
You shouldn't rant about subjects without solid arguments and strong facts, but the posts that have logical arguments will create interest and increase the need for debate. Everyone loves to give their opinion about their industry. Just make sure that it's kept as professional as possible and filled with facts.
6. Write Something Epic
Whether it's an ebook or tutorial, epic content digs down in-depth to give others an inside view of a topic. An owner of an online business might write a tutorial on how to gain traffic. It carries weight because he's clearly successful. A crafter makes tutorials for her readers so they can attempt to create some of the same items. The content is usually free and easily shared with others. The Internet appreciates value, so make sure it's something people want.
7. Let People Talk About Themselves
Everyone likes to share their own experiences and connect with others. It's the reason that tests and quizzes are so popular on social media. You can easily create your own questions for quizzes and tests that can be shared with others.
8. Infographics
At a quick glance, infographics give tons of information and are easily shared. You can create infographics related to your industry that give readers knowledge about a vital part of the niche using a different media. People love to read infographics because they are little snapshots filled with graphics that are digested quickly. Make sure the infographic is filled with current facts and data.
9. Create Content You Would Share
When you create content, think about whether you would share it with your friends and family. If you would, you're on the right track. You shouldn't create anything that you wouldn't share yourself. The list should guide you, but stay true to your business or blog voice and brand personality.
The first step to viral content is creating content that has the ability to go viral. The next step is to use different strategies if the first is not successful. It's rare for posts to go viral, and it's a big deal when it happens, but many bloggers and content creators never go viral. These ideas for posts will help you get started. After the content is created and polished, make sure it's submitted to social media outlets like Facebook, Twitter, Digg, Reddit and Tumblr. There will be more eyes on your content if you get it out to more people via social media.