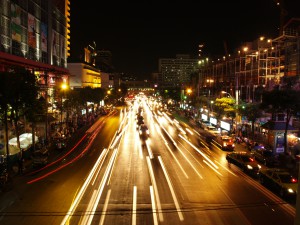 Still struggling to drive traffic to your blog? It's no secret that traffic is a direct indication of a blog's success. When people begin to willingly visit your blog and its pages, you'll have an easier time converting them into customers (or generating leads for that matter). If you're struggling with this area, keep reading to learn 10 easy ways to drive traffic to your blog.
#1) Refine Your Post Titles
The right post titles can make a world of difference in your blog's search engine visibility. Normally, Google, Yahoo and Bing displays the title of a webpage in their search listings; therefore, you should use catchy, relevant titles to attract more visitors. Be aware, though, opting for short, generic titles will lead to increased competition, which is why it's better to target long-tail ones instead. If you need help coming up with new post titles for your blog, try using Google's Adwords Keyword Planner Tool.
#2) Submit To Blog Directories
Technorati may have quietly shut down its blog directory last year, but there are still dozens of others authoritative directories to which you can submit your blog. This includes Best of The Web, Blogpodedia, and Blogged.com just to name a few. You have to remember that Yahoo started out as a directory, long before it was a functional search engine. Submitting your blog to quality directories will almost certainly boost your traffic — keyword being quality.
#3) Comment on Other Blogs
You can even drive traffic to your blog by posting comments on other blogs. If the other blog allows visitors to include their website URL in comments, add yours to it. This alone is a great way to funnel traffic to your blog. Try to post informative or otherwise beneficial comments so readers will be interested to learn more about what you have to say.

#4) Publish Content About Relevant People/Organizations
This is one of the lesser-known ways to generate blog traffic. It involves publishing content about a person, people or organization related to your niche. When the person or entity discovers you've written about them — assuming it's in a positive light — they may create a blog post of their own to show their readers they were featured on your blog. You can even send them an email to notify them of your recent blog post. After reading your post, they may choose to link back to it, helping to funnel traffic directly to your blog.
#5) Include Images
Don't underestimate the importance of using images in your blog post. Aside from the fact that it makes your posts look better, it can also prove useful in driving more traffic to your blog. So, how can images yield more traffic to your blog? It's not uncommon for Internet users to search for images rather than websites. Google Images receives well over one billion pageviews per day, and that's just one of the many image-based search engines. Including images in your posts will increase your visibility on Google Images, Bing Images, and similar image search tools.
#6) Submit RSS Feed To Directories
Submitting your blog's RSS feed to various RSS directories is another simple yet effective way to increase your traffic. RSS feed directories are exactly what they sound like: depositories for Really Simple Syndication (RSS) feeds. Simply take your blog's RSS feed URL (usually yourblog.com/feed or yourblog.com/rss) and plug it into the directory. It will then automatically pull and publish content from your blog's RSS feed, along with links to the respective posts and pages.
#7) Create a Facebook Page
Rather than using your personal Facebook profile to promote your blog, try creating a dedicated page. Doing so will allow visitors to "like" your page, and there's no limit on the number of people who can follow it. To create a dedicated Facebook page, visit https://www.facebook.com/pages/create? while logged in as your personal account and follow the instructions. The key thing to remember is that your new Facebook page should be used only for one purpose, which in this case is to promote your blog. In other words, don't publish content about other niches; focus strictly on your blog and your blog's target audience.
#8) Post More Frequently
How often to you create new blog posts? According to a small study conducted by Neil Patel of QuickSprout, posting 6 high-quality posts per week increased his traffic by 18.6%. This doesn't necessarily mean that you'll experience the same results, but the fact of the matter is that frequent publishing will drive more traffic to your blog. Both visitors and search engines will notice the posts, sending more users to check it out. Feel free to experiment with different post numbers and frequencies to find the magic number that works best for your blog.
#9) Create Professional Connections
Building professional connections with other like-minded individuals can yield tons of new traffic to your blog. If you're a blogger in the work-at-home, look for other figures in this niche who are willing to network with you. It should come as little-to-no surprise that LinkedIn is a powerful networking tool for professionals, allowing business owners and entrepreneurs to find others in their niche. By creating new connections, you'll find some of them link back to your blog and/or discuss it on their website, which of course drives traffic to it. Who knows, you may find a new job opportunity in the process?
#10) Create a Tumblr Blog
Creating a Tumblr blog can drive loads of traffic to your "official" blog. After it was acquired by Yahoo, Tumblr went through some major changes, most of which were beneficial to the microblogging platform and its user base. For instance, you can make your Tumblr posts more visible by using the tag function. At the bottom of your posts, simply add some relevant keywords and phrases. When a user searches for one of these keywords on Tumblr, they may stumble across your Tumblr blog. As long as you include your official blog URL in the "source" area of your posts, it will display a link to your blog, at which point visitors can check it out. Another great thing about Tumblr is the fact that you don't have to create 100 pieces of original content. Instead, try sharing some of the most popular posts while adding your content into the mix.
Have any other traffic generation methods that you would like to share with our readers? Let us know in the comments section below!
Summary
Article Name
10 Easy Ways To Drive Traffic To Your Blog
Description
Wouldn't it be great if you could just post articles to your blog and thousands (or millions!) of people read them? Unless you're a celebrity, you're probably going to need to look for ways to increase your blog traffic. Read on for some tips!
Author